Reedy Motors
The New Rage 24 Stock
AVAILABLE NOW!!!
The RAGE stock motor uses the new "3HL" armature, which incorporates a newly developed limination concept. Designed and developed for use with stock motors, "3HL" alters the magnetic flux path in the laminations to increase RPM and deliver a torque/power curve ideal for stock motors. The RAGE stock motor also comes with the new#767 Serrated motor brushes. This brush has been developed to maxamize power in stockmotors. Rage Plus includes a dyno printout. Available soon in a rebuildable verion, the Rage Type-R.
---
Stock motors
Our latest generation stock motors offer laydown brushes and our updated 1.4mm thick can design. In addition the motor uses an entirely new magnet construction along with a new brush vibration dampining system. The Plus versions are the same quality stock motors, but the Fire Hawk Plus comes with our #768 serrated V-cut brushes and #742 off road springs, while the Conquest Plus includes the #767 serrated full faced brushes. They are also dyno tested and come with dyno printout sheet that shows you the results of the dyno testing. Both versions of the Fire Hawk model are ROAR and NORRCA legal for racing.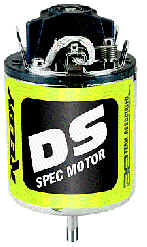 1111gggg11ggg1gggg111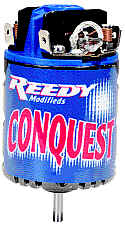 1111ggg1g1ggggggg11g11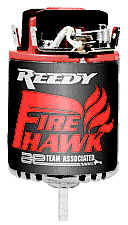 ---
Fire Hawk Stock
27 turn/ROAR specification
$36.00
---
Fire Hawk Plus
Dyno sheet included
$40.00
---
Conquest 27 Stock
36°
$36.00
---
Conquest Plus
Dyno sheet included
$40.00
---
DS Spec Motor
23 turn, 0.8mm wire, 18° fixed timng, brushes, replaceable brushes. Standard, spec stock motor included in #8080 and #8081 DS kits.
$30.00
---